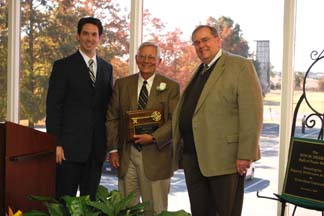 DSU Director of Athletics Jeremy McClain, Senator Bob Dearing and DSU President John Hilpert
Delta State University honored State Sen. Bob M. Dearing of Natchez, by dedicating the Hall of Fame Room inside the Chadwick Dickson Intercollegiate Athletic Building to Dearing on Saturday, Nov. 1. The Delta State alumnus was honored during an unveiling ceremony and reception prior to Delta State's Homecoming football game.
Following opening remarks from Delta State Athletic Director, Jeremy McClain, Delta State President, Dr. John M. Hilpert, addressed the standing-room-only crowd stating, "When you talk about high achievers and outstanding graduates, a name that rises to the top category of every list is Bob Dearing."
Hilpert thanked Dearing for his continued support of Delta State as an alumnus and through his actions in the legislature. "In short, Delta State owes this man a lot," said Hilpert. "Much of what this institution brags about today was launched from his senate seat."
After the official plaque unveiling ceremony, Dearing graciously accepted a key to the Bob M. Dearing Hall of Fame Room. During his acceptance, Dearing regaled the crowd with stories of his recruitment to Delta State and his athletic and academic career. He played football for two years and baseball for three years under Coach Gene Chadwick, lettering in both sports. "Coach Chadwick told me he offered me a scholarship because I had a little talent but could run his bird dogs better than any freshman he ever had," recalled Dearing. He received his undergraduate degree from Delta State in 1957 with a bachelor of science in education.
In addition to the room dedication, McClain announced that an athletic scholarship had also been started in honor of Sen. Dearing. "A gift has been received and we are halfway to endowing the scholarship," said McClain.
Serving the 37th District since 1980, Dearing has been a staunch supporter of his alma mater, securing state funds for capital outlay programs and for Statesmen and Lady Statesmen Athletics. Always active within the Delta State community, Dearing, who served as President of the DSU National Alumni Association in 1969, was recognized in 1997 as the Outstanding Alumnus of the Year, and in 2007, the Alumni Association inducted Dearing into the Alumni Hall of Fame.