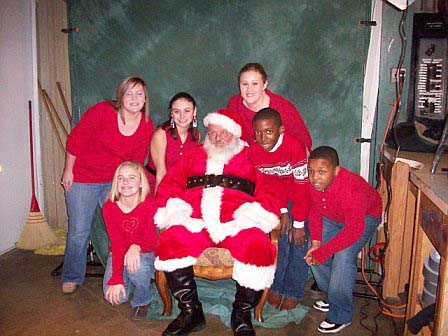 Members of the Cleveland Community Youth Choir pictured are: (kneeling) Byron Wright, (seated) Beth Baugh, Santa, (standing, from left): Anna Laura Wood, Katherine Jackson, Kateland Barr, Emmanuel Howze-Warkie

The Bologna Performing Arts Center (BPAC) at Delta State University, will present a joint Christmas recital of piano, violin and choral students, on Sunday, Dec.7, at 3 p.m. in the Delta and Pine Land Theatre.
This recital will showcase holiday music performed by area children taking part in Anne-Gaëlle Ravetto's Violin Studio, Adriel Hill's Piano Studio and BPAC's Community Youth and Elementary Choirs.
"This recital is another opportunity to highlight Delta State University's Year of Partnerships," said David Dallas, Bologna Performing Arts Center Executive Director. "Mrs. Hill and Ms. Ravetto have worked on our summer programs, and we are happy to have their students take part in a production with our Children's Choral groups."
The Community Youth and Elementary Choirs are sponsored by the Bologna Performing Arts Center Arts Education Department and are directed by Tennie Lester, Arts Education Coordinator at the BPAC. The choirs' accompanist is Susie Thomas, a speech pathologist for Sunflower County.
The Elementary Choir includes local students in 3rd – 6th grades, while the Youth Choir consists of students in 7th– 9th grades.
"We are expecting a big crowd, so we have moved the program to our main stage," Dallas said. "It's a great opportunity for audiences to hear these amazing young voices. And with the piano and violin performances, it should be a really enjoyable afternoon."
Ravetto, a native of France, is a busy freelance violinist and teacher. She is an adjunct faculty member of the Delta State University Music Department, serves as a collaborative artist and maintains a private teaching studio. She is a member of the Tupelo Symphony Orchestra and a faculty member of the Mississippi Summer Arts Institute. For more information regarding violin lessons, e-mail agravetto@deltastate.edu.
Hill was awarded the second diploma from Delta State in May 2007 with a bachelor's of music degree in piano. She taught for the Piano Preparatory department while attending Delta State. Hill maintains a private piano studio in Cleveland. She is married to Jeremiah Hill, and they have a son, Judah.
"We know we'll have lots of family member attending, but we hope community folks will take the time to come out and enjoy the show and support these hard-working young artists."
The joint Christmas recital is free and open to the public. There will be a reception following the performance. There also will be a drawing to win a Christmas caroling visit from the Youth Choir at the winner's home over the holidays.
For more information, contact Tennie Lester, Arts Education Coordinator at (662) 846-4844 or e-mail tlester@deltastate.edu.