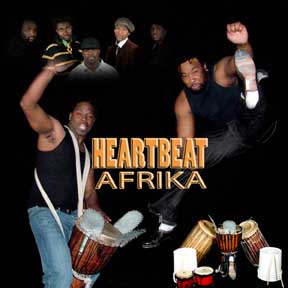 The Performing Arts Ensemble, HeartBEAT Afrika, with members Olu Manns, Elec Simon, and Q-Nice will be on the campus of Delta State University Nov. 3-7 presenting a variety of lectures, performances, and workshops. The week-long event will conclude with a concert on Friday, Nov. 7 from 11:45 a.m.- 1 p.m. on the DSU Quadrangle.
HeartBEAT Afrika is a fusion of traditional African percussion with a modern live band rhythm. Their interactive performance is a musical celebration of the African American experience in America. Through music, dance, and storytelling, HeartBEAT Afrika takes the audience on a journey through history, demonstrating how modern music and dance evolved from the drum. A percussion explosion takes place on stage as buckets and trashcans combine with a live band, tap dance, and body percussion to create an unforgettable experience!
Formed in 2005 by Olu Manns and Elec Simon, HeartBEAT Afrika has shared their talents with audiences throughout the United States. Based in Northeast Ohio, this ensemble regularly works with such notable venues as The International House of Blues and The Rock & Roll Hall of Fame.
Born in New York City, Manns is a second-generation percussionist. He was exposed to traditional African drumming at a young age and performed nationally by the age of 16. He has performed on the djembe drum internationally in Brazil and Africa and works as a percussion instructor with students in the Cleveland Metropolitan School District and Hiram College.
Simon, a tap dancer by profession, also learned drumming at a young age. Born in Steubenville, Ohio, Simon dreamed of performing with the national percussion show, STOMP! His dream came true in 2005 as he competed against 1400 hopefuls for the coveted position of Particle Man. After several years performing with the show on Broadway, he is currently in the touring group for STOMP!
Cleveland Ohio native, Q-Nice, has performed nationally as a performance poet and workshop facilitator for 15 years and is a member of the National Poetry Slam Team representing Cleveland. As the 2008 Playhouse Square Slam-U Poetry Director, he prepares high school students for the National Youth Slam Competition.
The week-long schedules of events are as follows:
Monday, Nov. 3:
DSU Community Drumming Experience from 5:30-7 p.m. in Room 150 of Zeigel Hall.
Tuesday, Nov. 4:
Performance from 9:15-10:15 a.m. at Bayou Academy in Cleveland.
Talk/demonstration: African/American music from 9:15-10:15 a.m. Room 153 of Ziegel Hall.
Q-Nice Poetry session from 1:50-2:50 p.m. in the Recital Hall of the Bologna Performing Arts Center.
Percussion studio workshop – African and street percussion from 3-4 p.m. in Room 150 of Zeigel Hall
Wednesday, Nov. 5:
Workshop from 10:35-11:45 a.m. at Margaret Green Junior High School- 8th grade band.
DSU Jazz band rehearsal from 2-2:25 p.m. in Room 150 of Zeigel Hall.
Thursday, Nov. 6:
Developing Rhythmic Skills workshop from 9:25-10:40 a.m. in Room 150 of Zeigel Hall.
Talk/demonstration: The roots of Hip Hop from 10:50 a.m.-12:05 p.m. in Room 153 of Zeigel Hall.
Careers in Music and the Arts: The life of a free-lance Musician, working on Broadway, The poet the 21st Century from 2:30 – 4 p.m. in the Recital Hall of the Bologna Performing Arts Center.
Performance/poetry night at 7:30 p.m. at The Senator's Place in Cleveland.
Friday, Nov. 7:
Final performance – HeartBEAT and friends from 11:45 a.m. – 1 p.m. DSU Quadrangle.
This is a DSU Year of Partnerships event and is made possible through the generous support of DSU SGA Multicultural Affairs, The Senator's Place, Bayou Academy, Margaret Green Junior High Band, DSU Music Department, and a grant through the Kent and Janice Wyatt Faculty Development Fund.
All events are free and open to the public. For more information, call Dr. Karen Fosheim at (662) 846-4622.