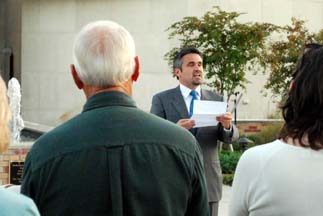 David Dallas, Executive Director of the Bologna Performing Arts Center at Delta State University, reads a letter written by Delta State baseball coaching legend, David "Boo" Ferriss, during a memorial honoring the late Dr. Nino Bologna.
The late Dr. Nino Bologna was honored by Delta State University in a memorial tribute held in the Hazel and Jimmy Sanders Sculpture Garden in front of the Bologna Performing Arts Center (BPAC) on Thursday, October 9. A crowd of approximately 100 gathered for the ceremony organized by the BPAC Executive Director, David Dallas.
Dallas began the program by reading a letter from Delta State baseball coaching legend, David "Boo" Ferriss, a lifelong friend of Bologna.
"I am indeed grateful for my lifelong friendship with Dr. Nino Bologna," wrote Ferriss. "I shall never forget him talking to me about his desire to do something for the arts in the Delta. After coming to the Delta State campus and touring the new performing arts building, he was most impressed and could visualize what this center could mean to the arts of the Delta. It was with great pleasure that he and his wife, Betty, made a major gift to the center in memory of their children, Nina and Sam. The people of the Mississippi Delta and Delta State students will continue to enjoy and benefit from their generosity for years to come."
Delta State President, Dr. John M. Hilpert, followed; addressing the crowd on the extraordinary life of Dr. Bologna and the positive effect he had on Delta State University and the Delta region.

"Dr. Bologna was a true man of the Delta," said Hilpert. "He was a man who felt he owed a debt to the Delta – a debt to help create a better Delta. And he spent a lifetime paying off that debt through happy, dedicated service."
Following Hilpert's remembrance, Dallas recited the Dylan Thomas poem "Do Not Go Gentle Into That Good Night." After a moment of silence, the Delta State Chorale, led by Dr. Richard Waters, Delta State Director of Choral Activities, performed "Song of Triumph" composed by Dale Grotenhuis.
The service concluded with a flower ceremony as attendees placed flower petals in and around the fountain in front of the center.
A native of Shaw, Dr. Nino Antony Bologna, died Sunday, October 5 at Delta Regional Medical Center in Greenville. He was 89.