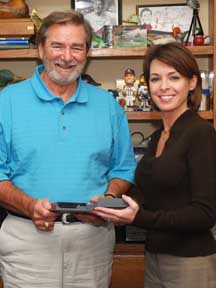 Dr. Michelle Roberts (at right), Vice President for University Relations at Delta State, delivers the Delta State commercials to Pete Peden, General Manager of Cable One in Cleveland
As Delta State University launches a new strategic marketing campaign, alumnus Pete Peden is doing his part to help disseminate the Delta State message. Peden is the General Manager of Cable One in Cleveland and the company has donated close to $100,000 worth of air time for Delta State since the fall of 2007.
A native of Bruce, Peden graduated from Delta State with a bachelor's degree in biology in 1963. He joined the locally-owned cable company in Cleveland in 1968 and has been there ever since.
"This is the 50th anniversary of cable operation in Cleveland," said Peden. "The company has made many changes over the years and I feel fortunate to have worked over 40 years here in Cleveland with the company.
Peden has always been a supporter of Delta State and in 1988 began a joint venture between DSU and then Warner Cable called "Delta Connection." "Throughout the years we have always been a community-minded organization and at that time we saw an opportunity to promote Delta State and the Delta State Foundation while also promoting Warner Cable," said Peden.
"Delta Connection" was an annual direct mail campaign that distributed over 30,000 brochures promoting Delta State class offerings, events, and sports while also advertising cable offerings. The cable company donated $5 to Delta State for every new cable hook up during the six-week campaign.
The "Delta Connection" was a successful fund raising campaign and continued operation until 2006. "In 2007 we decided to update our assistance to Delta State marketing efforts," said Peden. "We were able to do that through in-kind advertising, inserting the Delta State commercials in 12 – 14 cable networks throughout the state."
"Pete Peden is a wonderful example of the positive ways alumni can use their talents and resources to assist their alma mater," said Dr. Michelle Roberts, Vice President for University Relations at Delta State. "Pete saw Delta State's new marketing initiative as a way to update Cable One's giving efforts to Delta State in an area that was greatly needed by the university. Cable advertising costs were not a part of the university's budget at the time; however, it was an area in which we were very interested in exploring. Pete came up with the idea of modifying the "Delta Connection" program to meet the current advertising needs of Delta State. Because of his support, we are now able to reach 11 areas of the State, from Cleveland to Grenada and Batesville to Biloxi."
Peden has continued his service to Delta State throughout the years and currently serves on the board of directors of the Delta State Foundation. "I have had an allegiance to Delta State since I was a student and that has continued throughout my business career" said Peden. "At Cable One, we recognize Delta State's importance to Cleveland, the Delta, and the State, and we are proud to provide any support we can."