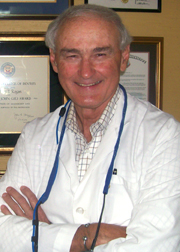 Dr. Bob Ragan
Dr. Bob Ragan, of Cleveland, was recently recognized by the Delta State University Alumni-Foundation Office for his forty-two years of providing dental care to Delta State students.
Dr. Ragan provided his services to many students who were in need of emergency dental care or could not afford a dental procedure. The dental care he provided during those years has totaled approximately $110,000 in value.
"I am very pleased to help students and the University," said Ragan. "Delta State means much to our community and this is a way I can support the University."
Dr. Ragan, who attended Delta State, completed undergraduate studies at the University of Mississippi in 1960 and received his dental degree in 1964 at the Loyola New Orleans School of Dentistry, after which he spent two years as a captain in the Dental Corps of the United States Air Force.
He opened his dental practice in Cleveland in 1966. Dr. Ragan was named the 2004 recipient of the "William John Gies Award by the American College of Dentists," one of the highest awards in the dental profession. He also received the Gladys Castle "Friend of Delta State" Award in 2007 from Delta State's National Alumni Association.
"The Foundation encourages others to make gifts of service or products to the University, which are just as valuable to the University as gifts of cash, stocks and bonds or real estate," said Keith Fulcher, Executive Director of the Alumni-Foundation.
For more information on giving to Delta State University, contact the Foundation Office at (662) 846-4704 or e-mail foundation@deltastate.edu.