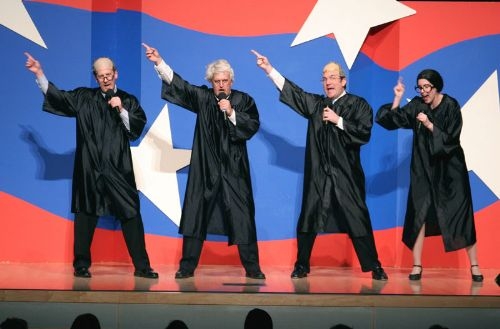 Capitol Steps, a troupe of former, but not disgruntled Congressional Staffers, who travels the country satirizing the very people and places that once employed them will perform on Monday, Sept. 29, at 7.30 p.m. in the Delta and Pine Land Theatre of the Bologna Performing Arts Center on campus.
The Capitol Steps are the only people in Washington who attempt to be funnier than the politicians! They perform over four hundred shows a year, covering territory from Portland, Maine to Portland, Oregon.
Over the years, the Capitol Steps have been featured on three national PBS specials, "Good Morning America," "Entertainment Tonight," "NBC Nightly News," and CNN's "Inside Politics."
Their song parodies have been played dozens of times on National Public Radio's "All Things Considered." Along with their weekly spots on Radio America's "Dateline: Washington" and WMAL's "Stevens & Core" show, they can be heard four times a year nationwide during their "Politics Takes a Holiday" radio specials, broadcast by NPR stations nationwide.
The Capitol Steps were created in December 1981 when three staffers for Senator Charles Percy were asked to provide entertainment for the Senate Foreign Relations Committee Christmas party. The group first considered staging a traditional nativity play, but in all of the congress they couldn't find three wise men or a virgin! So they decided instead to dig into the headlines and hot topics of the day, creating new lyrics for familiar tunes. What emerged was a special brand of satirical humor that played as well in Peoria as it did on Pennsylvania Avenue.
Although the Capital Steps are based in Washington, DC, ninety percent of their performances are for out-of-town audiences.
Whether it's the National Welding Supply Association, a University audience, High Schoolers, or State Legislators, people love to laugh at the foibles of public figures like Bill Clinton, who sings "I'm Unzippin My Doo-Dah" (to Zippity Doo-Dah,") or Bob Dole, who sings "It's Not Easy Bein' Mean." From "Oprah vs. the Cattlemen" to "Saddam vs. the World," no issue is left untouched. The only complaints the Capitol Steps seem to get are from politicians and personalities who are not included in the program!
Tickets are $28 for adults and $22 for senior citizens and $15 for children. T
o purchase tickets or for additional information, v

isit
www.bolognapac.com
or
contact the BPAC Box Office at (662) 846-4626. Box Office hours are 9 a.m.-12 p.m. and 1 p.m.- 5 p.m. Monday through Friday.