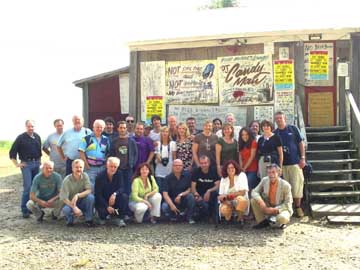 Twenty eight travel writers and radio show hosts from Spain, England, Ireland, France, Italy and Germany recently toured the Delta for five days courtesy of Mississippi Tourism and our local Chambers of Commerce.
They came for the grand opening of the B.B. King Museum in Indianola on Saturday, September 13. The group was met in Tunica by Dr. Luther Brown and Lee Aylward of the Delta Center for Culture and Learning at Delta State University and escorted throughout the Delta on a heritage tour that concluded with the unveiling of the museum in Indianola.
Among other things, the group explored the Tunica River Park Museum and followed Highway 61 to Clarksdale where they were met at the Crossroads by "Super Chikan" playing the blues, followed by barbecue at Hopson Commissary. They rode the Blues Highway as they came south with stops in Mound Bayou, Dockery, the Highway 61 Blues Museum in Leland, and a night of live Blues featuring Terry "Harmonica" Bean and Pat Thomas at Po Monkey's Lounge.
They visited several stops on the Mississippi Blues Heritage Trail, and witnessed the dedication of the Trail marker at B.B. King's birthplace in Berclair. They spent two nights in Cleveland, and ate dinner at The Senator's Place and Airport Grocery.
These writers have a combined audience of over 15 million European readers and listeners. The opening of the B.B. King Museum was also covered by the local and national press, including a writer from Rolling Stone Magazine.
Proposed Cutline: Travel writers and radio show host pose in front Po Monkey's Lounge.