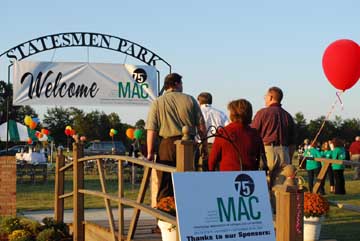 Participants in the 75th Annual MAC Conference gather at Delta State's Statesmen Park for the kick-off event of the three-day conference.
Delta State University welcomed approximately 200 college presidents, vice presidents, and administrators from throughout the state for 75th annual Mississippi Association of Colleges and Universities (MAC) Conference. The representatives of Mississippi's four-year, two-year, public, and private universities and colleges gathered for opening sessions on the Delta State campus Sunday, Sept. 28. Delta State is hosting the annual conference for the first time in 30 years.
Following an afternoon of administrative meetings and a golf tournament held on the Delta State golf course, participants were treated to a Delta barbeque complete with music and a fireworks show at Statesmen Park. Delta State President, Dr. John M. Hilpert, welcomed the guests who were entertained by the "Ol' Skool Revue" a R&B, soul band from the Delta Music Institute, a recording arts and music industry program at Delta State. The fireworks show following dinner was in honor of the 75th anniversary of MAC.
Attendees of the conference themed "Working Together to Educate Mississippi" will participate in multiple training workshops and round-table discussions during the three-day event. "Delta State is pleased to host our colleagues from across the state," said Hilpert. "For many, this is their first visit to Delta State and we welcome the opportunity to showcase the University and our community."