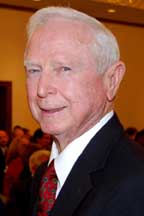 David Halbrook
Delta State University is hosting the 75th Annual Mississippi Association of Colleges and Universities Conference. As part of the event, the Halbrook Awards Luncheon was held in the State Room of the H. L. Nowell Union on the Delta State campus Monday, Sept. 29.
The David M. Halbrook Award for Academic Achievement Among Athletes is presented annually to colleges and universities that achieve and maintain high academic standards for student athletes, thus encouraging high graduation rates. Trophy recipients for 2007-08 were:
Public University Division (Men's) – University of Southern Mississippi , 77% graduation rate
Public University Division (Women's) – Mississippi State University, 85% graduation rate
Independent College Division (Overall) – Millsaps , 98% graduation rate
Community and Junior College Division (Overall) – Hinds Community College, 96% graduation rate
The John C. and Ernestine McCall Hallbrook Improvement Award is a $1000 cash award presented to the college or university that has shown the greatest improvement over the previous year in percentage of total student althletes graduating. Holmes Community College took home the 2007-08 award with a 20% improvement in the number of student athletes graduating.
David M. Halbrook, former state representative, has long been a friend and supporter of Mississippi higher education.
While serving in the Mississippi Legislature, Representative Halbrook, along with his brothers, John Halbrook and James Halbrook of Belzoni, and J. A. Halbrook of Beaumont, Texas, endowed the Halbrook Awards for Academic Achievement Among Athletes and the John C. and Ernestine McCall Halbrook Improvement Award.
Residents of Belzoni, David Halbrook and his wife Rita, an acclaimed artist, remain steadfast in their support of higher education in Mississippi.