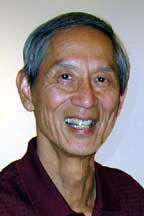 Dr. John Jung, author of Southern Fried Rice: Life in A Chinese Laundry in the Deep South and Chinese Laundries: Tickets to Survival on Gold Mountain will be in Cleveland Sept. 7-14, finalizing his research for his next book Chopsticks in the Land of Cotton: Lives of Mississippi Delta Chinese Grocers.
Jung will begin his trip through the Mississippi Delta with a lecture on Sunday, Sept. 7, at 2 p.m. in Jobe Hall Auditorium on the campus.
An exhibit entitled Pictures from the Past: A Celebration of Mississippi Delta Chinese History will open with a reception at the Charles W. Capps, Jr. Archives & Museum building following the Sunday lecture presentation. The exhibit will feature oral histories and photographs from the University Archives' permanent collections and those items on loan from area residents. KC's restaurant in Cleveland will provide the hors d'oeuvres.
The lecture, exhibit and reception are free and the public is invited to attend.
Jung is a retired psychology professor from California State University in Long Beach, Calf. In 2002 he retired halftime and found time to reflect on how being a member of the only Chinese family in Macon, Georgia, affected the lives of his immigrant parents and their children as they operated a laundry from the 1920s to 1950s before the civil rights era. Thinking about what it means to be "Chinese" when everyone else around you is either "black or white" led to the 2005 publication of Southern Fried Rice: Life in A Chinese Laundry in the Deep South.
Writing this memoir stimulated Jung to do more extensive research about Chinese American history to understand the key role that the laundry business played in their economic success, leading to the 2007 publication of Chinese Laundries: Tickets to Survival on Gold Mountain which blends historical events and issues with narratives written by those who grew up in laundries describing the lives of laundrymen and their families.
Chopsticks in the Land of Cotton
will be Jung's third publication and focuses on the social history of the immigrant Chinese and their families who operated grocery stores in the Mississippi Delta for much of the past century. He accessed the oral history holdings at Delta State University's Archives & Museum to find first-hand accounts of life in the Mississippi Delta. These oral histories also lead Jung to develop working relationships with many of the individuals who had donated their oral histories to the Archives. Jung comments about his latest work, "I hope this book can help preserve some of this rich history that is unknown to most Americans, even those of Chinese ancestry."
This program and exhibit is made possible through the generous donations and support from KC's Restaurant, and the Delta State University Library, Archives and Diversity Committee.