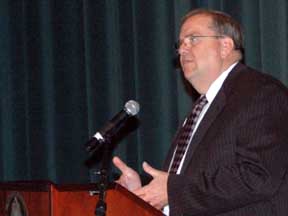 Delta State University President, Dr. John M. Hilpert presented the State of the University address to over 400 employees on Thursday, August 14 during opening convocation ceremonies in the Delta & Pine Land Theatre of the Bologna Performing Arts center on the DSU campus.
President Hilpert welcomed the faculty and staff to the 83rd academic year at Delta State by challenging them to "go out and do interesting and valuable work," stating "In this higher education profession we all share there are regular challenges to do interesting and valuable work, but this particular moment may present us with somewhat more opportunity than we would normally welcome."

Hilpert went on to discuss the international, political and financial uncertainty of the times and the challenges that must be met by the University. He challenged the faculty to address students at a deeper level, noting fears about family solvency in order to assist those students facing the economic realities besetting so many families.
Dr. Hilpert then discussed upcoming budget cuts and outlined the University's blueprint for addressing the challenge stating, "The process design invites broad participation as we address this challenge. It will be interesting and valuable work indeed."
"That's enough of the doom and gloom!" said Hilpert as he continued the address. "Let's talk about some good news." He then addressed how the University Budget Committee, Academic Council and President's Cabinet worked together to make Delta State one of only three universities in the system that managed salary increases for all employees.
Hilpert then highlighted some of the many departmental accomplishments from the previous year. He pointed out the achievements of many university departments and discussed the renovation and construction projects that were completed.
Dr. Hilpert announced this will be the "Year of Partnerships," the fourth in the series of "Year of" themes. "We will recognize how closely tied we are to partners within and outside the Delta and we will celebrate the accomplishments from those linkages while seeking new partnerships that might be helpful in the future."
Hilpert then discussed a number of upcoming events and projects that will take place on the DSU campus during the upcoming academic year. The focus was on new student programs, facility upgrades, a new marketing initiative for the university, and statewide events that would be hosted on the DSU campus.
President Hilpert closed the address stating "This will be a year for us to all give our best. Before us is indeed the challenge to do interesting and valuable work."