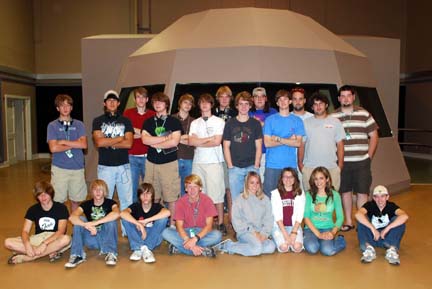 DMI campers are: (sitting, from left) Perry Hammett of Lexington, Holt Watkins of Pelahatchie, Jesse Hammett of Lexington, Cody Roth of Waveland, Mary Mac Drake of Port Gibson, Kristen Brassel of Grenada, Sarah Ann Boddie of Pass Christian, Brant Bolden of Greenwood, (2nd row, from left) Martin DeFrance of Ridgeland, Madison Dixon of Cleveland, Farris Antoon of Jackson, Martin Antoon of Jackson, Shaun Hardy of Jackson, DMI staff Greg Cobb of Collierville, Tenn., Robert Stringer of Flowood, (back row, from left) Josh Sullivan of Vicksburg, Adam Koehler of Cleveland, Tommy Foley of Long Beach,Michael Mattox of Madison, Aaron Taylor of Jackson, and Jonathan Upp of Grenada.
Students attending the second annual Delta Music Institute Summer Camp will present a concert of commercial music at 7 p.m., Saturday, July 19, in the Bologna Performing Arts Center on the campus of Delta State University.
The concert will include material from the rock and soul genres, along with several original songs created by the camp's songwriting students.
Nineteen students ages 15-18 from across the state are participating in the 2008 DMI Summer Camp. The intensive six-day residential camp experience explores three music career tracks, including audio engineering, performance, and songwriting that are integrated together, culminating in a recording session and showcase performance. Instruction for the DMI camp is being provided by DMI faculty along with visiting music industry professionals.
Supporters of young musicians are encouraged to attend and enjoy the show.
The Delta Music Institute is a first step towards a broad program in Media Arts Production. It began with a generous donation
in 2003
by Fred Carl, Jr. President and CEO of Viking Range C
orporation
in
Greenwood.
The focus of the DMI is to provide students with a broad and thorough education in the technological, business, and creative areas of the music industry.
The concert is free and open to the public. For further information, call the DMI office at (662) 846-4579.