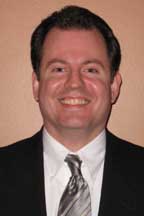 Jeff Slagell, director of Library Services at Delta State University, has been elected president of the Mississippi Library Association. Slagell will lead the multifaceted organization whose members include public, school, college, university, and special librarians from throughout Mississippi.
The Mississippi Library Association provides professional development opportunities for librarians and works to improve library services and library support for the benefit of all Mississippians. The organization was established in 1909 and is an official state chapter of the American Library Association.
During the past year Slagell served the Association as its vice president. His responsibilities included planning and coordinating the association's annual meeting. The October 2007 conference in Vicksburg drew in excess of 500 attendees who participated in 50 program sessions and events. Pauline La Rooy from the National Library of New Zealand served as the keynote speaker and numerous authors from across the country were featured on the program.
Previously Slagell served the Mississippi Library Association in various other capacities including Chair of the Association of College and Research Libraries section. He also serves on the Executive Board of the North American Serials Interest Group, Mississippi University Library Director's Council, and MAGNOLIA (Mississippi Alliance for Gaining New Opportunities through Library Information Access) Steering Committee.