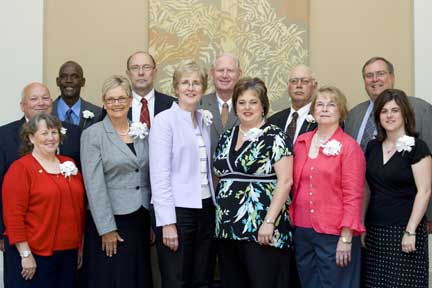 The 2008 recipients of Delta State University's "Awards for Staff Excellence in Service" were formally recognized on Friday, June 6 at a luncheon held in the atrium of Kent Wyatt Hall on the Delta State campus.
The awards are funded through the Delta State Foundation and the University in an initiative geared toward recognizing individual staff members who have made outstanding contributions to the university, their colleagues or the university's relations with communities in the region.
Pictured are: (front row) Director of Student Health Services Bevaline Black, Senior Secretary for the Department of Social Sciences Linda Douglas, Administrative Payroll Officer Donna Fitzgerald, Assistant Director of Human Resources Lisa Giger, Administrative Secretary to the Dean of Education Deleslyn Dakin, Director of Career Services Christy Montesi; (back row) Electrical Supervisor James Marquis, Jr., Groundskeeper for the President's residence Rickey Brown, Vice President of Finance and Administration Greg Redlin, President of the Foundation Frank Sibley, Supervisor of Carpentry and Painting William (Junior) Miller and Delta State University President Dr. John Hilpert.
The nine award winners each received plaques and commemorative clocks to honor the recognition and a $3,000 cash prize. The awards are separated into three categories: Service to the University, Service to University Colleagues and Service to the Community. Recipients were selected by a representative committee appointed by the Vice President of Finance and Administration with advice from the Administrative Staff Council and the President's Cabinet.
Nomination calls for the 2009 Foundation Staff Awards for Staff Excellence in Service will go out in early fall. Nominations can be made by employees, students, alumni, community members or the individual, themselves.