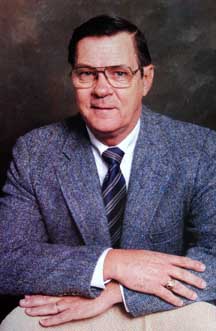 William McKinley Cash
The William McKinley Cash History Scholars Program has been established at Delta State University. The program honors Dr. William Cash who taught history at Delta State from 1962-1995, and served as Chair of the DSU Department of History from 1969-1993.
A native of Echola, Ala., Cash received his bachelor's and master's degrees from Mississippi State University and his Ph.D. from the University of Alabama. He was also a U.S. Army veteran, having earned the rank of Captain.
Cash's contributions to scholarship and to Delta State were many and varied. Cash was author of numerous historical works, including The Delta Council: Fifty Years of Service to the Mississippi Delta (with R. Daryl Lewis). He also edited the Journal of Bolivar County History and served on the Editorial Board of the Journal of Mississippi History. He served as president of both the Bolivar County Historical Society and the Mississippi Historical Society, a member of the Mississippi Educational Television Board, and chairman of the Board of Directors of the University Press of Mississippi.
Despite those accomplishments, Cash was first and foremost a teacher. In dedicating the 1988 Broom, Delta State's yearbook, the editors described him as "a master teacher, fair administrator, and …a friend to all who have sought his help and guidance." Cash embodied, the editors concluded, "the spirit and character of Delta State University." Comments from his students included: "He is always helpful but never expects anything in return"; "Along with history, he teaches you great lessons in life"; and "He always wants the best for his students and encourages them to do their best." In a fitting summary of Cash's legacy, one student declared, "He teaches not only from books but from the heart."
To sustain that legacy, Cash's daughter Nancy Cash Harvey and her husband Tim Harvey, both DSU alumni, have generously endowed the Cash History Scholars Program. "We want to honor his memory," said Mr. Harvey, "with something that effectively promotes the values to which he was devoted: good scholarship and dedicated teaching." Mrs. Harvey said, "Because of the great love, respect, and admiration I have for my father, I consider it a privilege to honor his memory by helping deserving students who wish to follow him into the field of teaching."
The Cash History Scholars Program provides financial assistance to exceptional students who intend to teach history. Michael Ward, a junior history major of Moorhead, has been named the inaugural William McKinley Cash Scholar at Delta State University.
Ward has maintained a 3.61 overall grade point average and a 3.86 average in history courses. "It is a great honor," Ward said, "to be the first William McKinley Cash Scholar at DSU. I am grateful for Dr. Cash's legacy and to his family's generosity in making this possible."