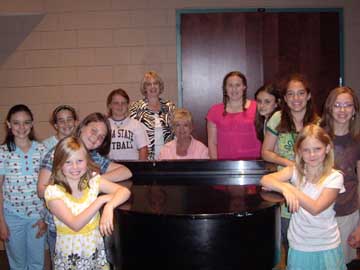 From left to right are choir participants: Niven Bullock, Madisyn Grantham, Molly Jackson, Brantley Hutchinson, Shelby Newsom, Mrs. Lester, Susie Thomas, Kateland Barr, Katherin Jackson, Lauren Ashley Collins, Sayre Weast, Christina Morris.
The Cleveland Elementary Community Choir will be in concert for the first time Saturday, May 10, at 2 p.m. on the McPherson Stage in the Recital Hall of the Bologna Performing Arts Center on the campus.
This Choir is in its first semester of existence and is comprised of local students, third through sixth grade, from Hayes Cooper, Parks, Presbyterian Day School, and Bayou Academy. The concert will be given in conjunction with piano students of Adriel Hill.
The goal of the choir is to provide the development of choral singing skills, as well as the opportunity to learn a variety of musical styles from standard children's choral literature. Selections the choir will sing in this concert include: "When I Turn My Heart to Heaven"; "The Path to the Moon"; "Siya Hamba"; and "We're All in This Together" from the Disney hit "High School Musical."
This educational opportunity is administered by the Arts Education Department of the Bologna Performing Arts Center and is under the direction of Tennie Lester. Accompanist for the group is Susie Thomas of Shaw.
Next year, in addition to maintaining the elementary choir, an additional choral opportunity will be offered on the junior high level for area students.
The event is free and open to the public. Please contact the BPAC Arts Education Department for further information at (662) 846-4844.