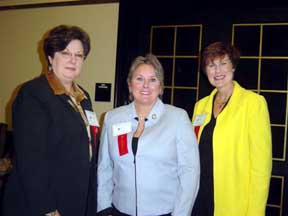 (from left): Dr. Myrtis Tabb Assistant Vice President Partnerships and Special Projects and Interim Director of Human Resources at Delta State is pictured with Dr. Martha Saunders, President of University of Southern Mississippi, and Dr. Francis Lucas, President of Millsaps College.
Dr. Tabb recently attended the Women in Higher Education Mississippi Network (WHEMN) conference in Hattiesburg where she presented Dr. Lucas with the third annual WHEMN Leadership Award. Dr. Tabb was last year's recipient of the leadership award.
The statewide organization established the award to recognize a woman each year who has demonstrated leadership and a commitment to promoting initiatives that identify, develop, encourage, mentor, and advance women in higher education. WHEMN comprised institutional representatives from each of the state's junior and senior colleges and universities. The annual conference is designed to deliver practical information and networking opportunities to higher education professionals in the state.