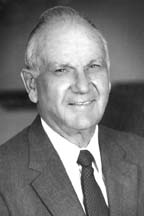 Delta State University will pay tribute to one of its own during Spring Commencement Services to be held on Saturday, May 10 at 10 a.m. inside Walters Sillers Coliseum on the campus.
Delta State will bestow one of its highest honors– an honorary Doctor of Public Service degree to Delta State's legendary baseball coach, Dave "Boo" Ferriss. The honorary degree was unanimously approved by the Institutions of Higher Learning's Board of Trustees.
Ferriss, born in Shaw, graduated from Mississippi State University with a Bachelor of Science degree. He was the first baseball player to receive a full scholarship to Mississippi State University. Ferriss pitched there successfully on the 1941 and 1942 teams. He was drafted by the Boston Red Sox in 1942, but was then called up for military duty during World War II. He served in the Army Air Force from 1942 to 1945.
Ferriss went on to pitch for the Red Sox and set the major league record with 22 scoreless innings to start a career. He spent six seasons playing for Boston, compiling a 65-30 mark with a 3.64 earned run average. After his successful stint as a player, he served as a pitching coach for the Red Sox from 1955-59. He came to Delta State in 1959 as athletic director and baseball coach.
In early 1967, Ferriss left Delta State to become assistant athletic director at Mississippi State, but he returned 18 months later as Director of the Delta State University Foundation, a position he held until June 1987. He returned to his coaching duties in 1970 and guided Delta State to a 639-387 record and three appearances in the NCAA Division II College World Series before retiring in 1988.
Ferriss is a member of the Mississippi Sports Hall of Fame, the Mississippi State University Sports Hall of Fame, the Semi-Pro Baseball Hall of Fame, the American Baseball Coaches Association Hall of Fame, and the Boston Red Sox Hall of Fame. He received the United States Baseball Federation's Service Award in 1986. He has served on the Board of Directors of for several organizations including the Cleveland Rotary Club, the Cleveland-Bolivar County Chamber of Commerce, and the State YMCA. The award given annually to Mississippi's top college baseball player is named after "Boo" Ferriss. Also, Delta State University's baseball field and baseball museum are named in his honor.
Ferriss has been a part of the Delta State family for over 60 years, serving in various capacities. At age 86, he is still very involved with the university. He is loved and respected by the campus and Cleveland communities. Ferriss continues to stay in contact with his former players. He knows all about them and their families; the amount of care and concern he continues to show for them is incredible. He also continues to work with Delta State University's Foundation office on a regular basis to solicit support for the university. "Boo" Ferriss was a great baseball player and coach, but he is an even finer person and representative for Delta State. He is a true Statesman.
Ferriss is married to Miriam Izard Ferriss. He is the father of two children, Dr. David Ferriss of Simsbury, Connecticut and Margaret Ferriss White of Madison. They have two grandchildren, Miriam Ferriss and David Ferriss.