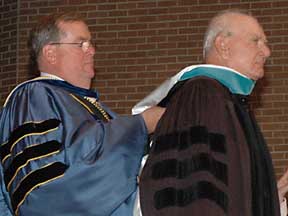 Delta State President Dr. John Hilpert hoods Dave "Boo" Ferriss bestowing one of the highest honors– an honorary Doctor of Public Service degree.
Delta State's legendary baseball coach Dave "Boo" Ferriss was awarded the honorary degree as part of Delta State's 81st Spring Commencement Service inside Walter Sillers Coliseum on campus. Of the honor, Ferriss commented that "Delta State has had a great impact on my life."
Delta
State University
confers the honorary degree to individuals who have made significant and meritorious contributions to the university, higher education generally or other areas of society. Expected areas of achievement included, but are not limited to, outstanding creative and scholarly work, distinguished leadership or service, significant accomplishments or exceptional philanthropic support.
The honorary degree was unanimously approved by the Institutions of Higher Learning's Board of Trustees.
Ferriss joins Elbert R. Hilliard, Charles W. (Charlie) Capps, Morgan Freeman, Dr. James (Jim) T. Rogers, Dr. Patricia (Patsy) A. Thrash, and Natasha Trethewey to become the seventh recipient in Delta State history to receive an honorary degree.