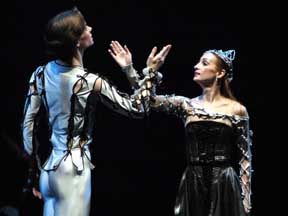 Russia's St. Petersburg Ballet Theatre will perform the classic ballet "Romeo and Juliet' on Tuesday, April 22, at 7:30 p.m. in the Delta and Pine Land Theatre of the Bologna Performing Arts Center on the campus.
Featuring Prokofiev's classic musical score, this dramatic and powerful ballet based on Shakespeare's timeless tragic romance is given a dynamic new interpretation by Russia's elite dancers. The repertoire of the company consists of both classical and modern ballet performances and more than 60 dance pieces and 20 one-act ballets. Its latest performance, "Romeo and Juliet," is a tragedy based on the play by William Shakespeare in which two "star-crossed lovers" meet and secretly marry one another, despite their feuding families. The play ends in tragedy, thus a spectacular finish for this ballet.
The St. Petersburg Ballet Theatre was founded as the first Theatre of Ballet in Russia under the management of the People's Artist of Russia, Professor Peter Gusev in 1966. Therefore, before the creation of the St. Petersburg Ballet, he had enough time to prove himself as a brilliant choreographer of Ballet Art Schools. Gusev, the notable artist and ballet master graduated from the Petrograd Choreographic Academy in 1922 and was an artist of Leningrad Opera and Ballet Theatre until 1935. From 1940-1950 he directed the Kirov Ballet, then (1958-1960) was the organizer of the Ballet Theatre in Beijing, and ballet schools in Shanghai and Guanchjou.
The ballet artists demonstrate their skill at international ballet competitions by both professionals and amateurs of the Ballet Arts. As of 2001, the title of Artistic Director has been held by Yuri Petukhov who has received first prize for best choreography and three first prizes as a ballet master from international competitions throughout Russia and abroad. The company's mastery of the high traditions of Russian Ballet is being passed on to a younger generation of artists, both Russian and foreign.
The St. Petersburg Ballet captures the essence of the Romantic era in their traditional performance of "Romeo and Juliet."
For ticket information, contact the BPAC Box Office at (662) 846-4626 or visit online at www.bolognapac.com. Box office hours are 9 a.m.- 5 p.m. Monday-Friday.