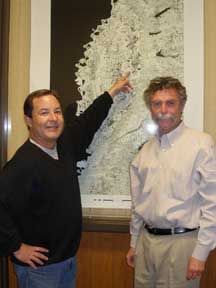 Jim Seale and Dr. Luther Brown
Jim Seale, well-known Delta painter and Curator of the Alluvian Art Collection, points to the location of the Alluvian Hotel in Greenwood, home of the finest collection of paintings and photographs by Delta artists.
Seale will guide a tour of the collection on April 11. Dr Luther Brown, Director of the Delta Center for Culture and Learning at Delta State will assist Seale with the tour.
The bus will depart on April 11 in the parking lot of the Capps Archive and Museum on the campus at 3 p.m. and will return at 7 p.m.
Following the tour, participants will enjoy entertainment in the Alluvian lobby and at the River to Rails Festival on Howard Street in Greenwood, with musical performances and food vendors.
This event is in celebration of the visual arts heritage of the Mississippi Delta, as part of the Delta State University Year of Delta Heritage.
The tour is free is free and open to the public, although a charge of $5 per person will be made for those who ride the bus to Greenwood. For more information about the Year of Delta Heritage contact the DSU Delta Center for Culture and Learning at (662) 846-4311.