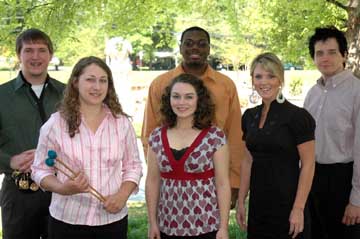 Six students from the Department of Music at Delta State University were recently selected by audition to perform in the department's annual Honors Recital to be held on Monday, April 28, at 7:30 p.m. in the Bologna Performing Arts Center on the campus.
Pictured front row, left to right, Amber Horton ofColt, Ark.,Sarah Eads ofHernando, Brandi Ward of Shelby. Back row from left, Steven Hugley of Vicksburg, LeMorris Hunt of Holly Springs, and Gene Kachenovich of Olive Branch.
The recital is free and open to the public. For more information, call the DSU Music Department at (662) 846-4615.