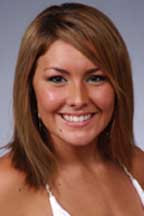 Delta State University will honor the life of Molly Bates, a sophomore swimmer on the Lady Statesmen Swimming and Diving team, Wednesday, April 2, at 8:00 p.m. in Wyatt Gymnasium.
Bates' life ended tragically late Saturday night after the vehicle she was traveling in crashed on US Highway 61 South.
Bates, 19, was a beloved teammate and fierce competitor. Head coach Brian Hein described her as, "full of energy and the type of person people gravitated towards. She was a pleasure to be around and she will be sincerely missed."
The memorial service will feature a slideshow presentation highlighting Bates' life. Immediately following the service, a candlelight vigil will be held inside the Delta State Aquatics Center. The memorial services are open to the public.