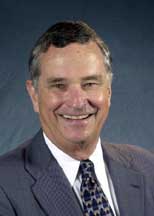 Hodding Carter
Delta native Hodding Carter will deliver the keynote speech at the dedication of the S. Wayne Thompson Journalism Lab at Delta State University on Monday, April 14 at 2 p.m. in the second floor East lobby of the H.L. Nowell Student Union on the campus.
Carter, a nationally prominent journalist and public affairs commentator, was formerly President and CEO of the powerful Knight Foundation. He is now Professor of Public Policy at the University of North Carolina.
Carter forged his early career as editor of the Greenville Delta Democrat-Times during the racial strife of the 1960s. He will remember those years in his speech "Old Times There Are Not Forgotten: Newspapering in a time of turmoil."
The event will bring together many influential Mississippi journalists and friends of the late S. Wayne Thompson, DSU Class of 1943.
At the end of his career, Thompson, a beloved sportswriter at the Jackson Clarion-Ledger and the Memphis Commercial Appeal, willed his life savings to strengthen journalism education at Delta State.
Dr. Leroy Morganti, Delta State University vice president of executive affairs emeritus, will speak about Thompson and the legacy that has enabled Delta State to establish its innovative journalism program.
According to Patricia Roberts, Delta State Assistant Professor of Journalism at Delta State, the benefits of the Thompson legacy are vast.

"The S. Wayne Thompson Journalism Lab provides us with new tools to revitalize the rich heritage of Delta journalism." says Roberts.

Students also benefit from the Thompson legacy through Silas Wayne and Lula Wilson Thompson Scholarship, named for Thompson's parents. The scholarship is awarded to as many as ten journalism students each year.
Another honored guest at the event will be Dr. John Merrill, DSU Class of 1949, whose recent gift to the DSU journalism program established the Merrill lectureship to bring working journalists to speak to at campus classes. Dr. Merrill, a legendary journalism educator and author, is Professor Emeritus at the University of Missouri.

The event is sponsored by the Delta State University Division of Languages and Literature, as part of the Year of Delta Heritage.
The dedication and reception are free and open to the public. For further information, contact Roberts at (662) 846-4468.