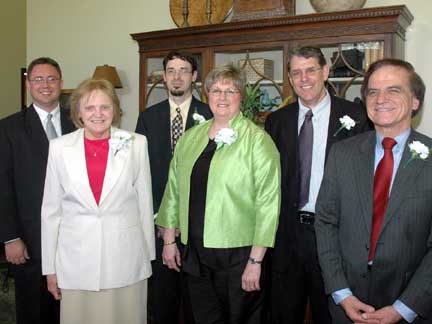 In its continued effort to recognize the dedicated and professional faculty at Delta State University, the Foundation held a recent luncheon and reception for the 2008 recipients of the Excellence in Teaching, Research and Service Faculty Prizes at the Hugh Ellis Walker Alumni House.
The faculty awards were presented to (from left) Dr. Richard Waters for teaching, Dr. Marilyn Shultz for teaching, Dr. John Green for research, Elise Jenkins for service, Dr. Alan Barton for research, and Dr. James Robinson for service.
Faculty Prize for Research
Alan Barton is
a
ssistant
p
rofessor of Sociology and Community Development and
f
aculty
a
ssociate at the Center for Community and Economic Development (CCED). He directs the Delta Rural Poll, a biennial telephone survey of residents of eleven Delta counties. The survey has supported faculty research, student thes
i
s, and teaching in the Division of Social Sciences as well as community development programs at the CCED. Barton has also conducted research on tourists visiting the Delta to learn about the area's rich heritage stories, including the blues, civil rights and the region's natural resources. Heritage research was undertaken in collaboration with the Delta Center for Culture and Learning to support the development of a national heritage area in the Mississippi Delta. He has presented the results of these research projects at over twenty regional, national and international professional conferences and has produced ten research and policy reports detailing his findings.
John J. Green is
a
ssistant
p
rofessor of Sociology and Community Development in the Division of Social Sciences and Graduate Coordinator for the Master of Science in Community Development Program. He is founding Director of the Institute for Community-Based Research. The Institute works closely with the DSU Center for Community and Economic Development and its numerous programs to engage students, faculty and community organizations in applied research to address important social issues. Green has presented research at numerous community workshops, scholarly conferences and policy forums, and he has published/co-published technical working papers, edited book chapters and peer-reviewed articles in journals such as Sociological Spectrum, Southern Rural Sociology and Rural Sociology.
Faculty Prize for Service
Elise Jenkins is an
a
ssistant
p
rofessor of Marketing. She served as Chair of the Quality Enhancement Plan for the SACS reaffirmation process from 2002 to 2004 and led two subcommittees, the QEP Research Team and the QEP Leadership Team. She served as Campus Coordinator for the National Survey of Student Engagement (NSSE) in 2004 and 2007 and for the Faculty Survey of Student Engagement (FSSE) in 2007. In addition
,
she has served two terms as a Student Engagement Champion for the College of Business. While serving as faculty advisor to the DSU Chapter of the American Advertising Federation, she co-chaired the annual "Ad It Up" student conference for marketing, graphic design and journalism majors. Jenkins developed and administered the Business Graduate Survey (assessment tool) used in the College of Business for measuring the attainment of Student Learning Outcomes.
James Robinson, a
p
rofessor of
h
istory, has provided leadership for two important DSU projects – the creation of a memorial to DSU veterans and the staff employee recognition. Thanks to his work
,
the atrium in Jobe Hall is a memorial to DSU veterans. Through his work the committee that awards the staff employee of the month honor and the Kent Wyatt Staff Appreciation Award were established. Robinson has focused much of his work on the improvement of secondary instruction in the area of history. He has developed instructional materials for use in K-12 settings. Among these materials are discs for American History and for World Civilization. Student's knowledge of historical events and issues is broadened because of these materials and his work with several high school teachers. Many have enjoyed listening to him play the piano at Delta State functions.
Faculty Prize for Teaching
Marilyn Schultz, an
a
ssistant
p
rofessor of English, works with teacher education candidates in English. She teaches undergraduate and graduate courses related to English education, supervises student teachers, and teaches freshman composition. She sponsors a student National Council of Teachers of English (NCTE) organization, is responsible for the assessment plan for NCTE/NCATE accreditation of the English education program, is an NCTE/NCATE reviewer, and serves as the
d
epartment's assessment coordinator. In October 2007, Schultz received the 2007 Mississippi Humanities Teacher of the Year Award. At the state level, she serves as Coordinator for NCTE High School Writing Contest and since 2005 has been a state representative to the Assembly on Literature for Adolescents of the National Council of Teachers of English and serves as Vice President of Mississippi Council of Teachers of English.
Richard Waters is assistant professor of Music and Director of Choral Activities. He directs the Chamber Singers, Chorale, and Delta Singers, teaches courses in conducting and choral methods, and supervises student teachers. Under Waters' direction, the choirs have performed in several notable national and international venues, including Carnegie Hall in New York (2005), a ten-day tour of England with performances at York Minster, Christ Church Cathedral in Oxford, and St. Bride's Church in London (2006), and most recently a trip to Washington, D.C. to sing by invitation at Washington National Cathedral (2008). Since 2004, the choirs have released three compact disc recordings, portions of which have been featured on Mississippi Public Broadcasting. They have also been asked to record new compositions by Austin Lovelace and David Childs for Hinshaw Music Company and Santa Barbara Music Publishing. In 2007, the Chorale was selected to perform at the Mississippi ACDA/MMEA state convention in Jackson.