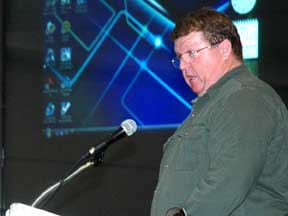 Calvin Simmons addresses the audience at the recent Social Work Workshop about the program he established in memory of his wife, Debbie Simmons. Debbie Simmons was a 1990 graduate of DSU, receiving a Bachelor of Social Work degree. She died in February of 2007.
Calvin Simmons set up a new program to honor his wife's caring nature. The goal is to highlight excellence in social work, increase community recognition and promote the ideals and passion that Debbie Simmons had for the social work profession.
The Debbie Simmons Awards Program includes the Debbie Simmons Social Work Scholarship Award, The Debbie Simmons "I Care" Social Work Recognition Award, and the Debbie Simmons Social Work Mini-Grants Awards.