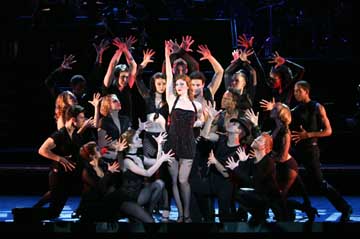 The '20s will come roaring back with a vengeance on Sunday, March 30 at 3:30 p.m., when the hit musical "Chicago" comes to the Bologna Performing Arts Center on the campus.
From the original 1926 play by Maurine Dallas Watkins, which was based on actual events, "Chicago" is, as we are told in the show's opening lines, "a story of murder, greed, corruption, violence, exploitation, adultery and treachery." The story revolves around Roxie Hart, a nightclub dancer who dreams of starring in vaudeville, she kills her lover, nightclub regular Fred Casely, and convinces her husband to front the money to hire Chicago's shrewdest defense lawyer. The lawyer, Billy Flynn, turns her crime of passion into celebrity headlines, and Roxie becomes the toast of Chicago—until other crimes pull the limelight away from her.
"Chicago" was created by John Kander and Fred Ebb, known for their hit musicals "Cabaret"and "Kiss of the Spider Woman" and Bobb Fose, famous for his innovative staging and choreography.
The play first opened on Broadway on June 3, 1975 and ran 898 performances. Its current Broadway revival, on which this tour is based, opened on Nov.14 1996, and is still running.
In 2002, Miramax Films took the Tony Award winning musical to the big screen, starring Renee Zellweger as Roxie Hart, Catherine Zeta-Jones as Velma Kelly and Richard Gere as Billy Flynn.
The box office success and subsequent multiple Oscar wins including Best Supporting Actress Catherine Zeta-Jones, and Best Picture lead to the rebirth of the musical and touring success.
For the first time since the movie in 2002, "Chicago" the musical will appear live on stage in Cleveland, Mississippi.
For ticket information, contact the BPAC box office at (662) 846-4626 or visit online at
www.bolognapac.com
.