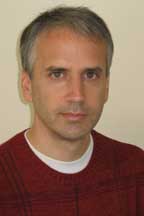 Christopher Phillips
The Delta State University Special Programs Committee will host Delta State alumnus Christopher Phillips, noted philosopher and author, in a book signing and public forum on Wednesday, March 26 on the campus.
Phillips will sign and read from his most recent book "Socrates in Love: Philosophy for a Passionate Heart"(W. W. Norton & Company) at 2 p.m. and at 6 p.m., will moderate one of his public Socrates Café experiences to discuss the topic of "What is an artful life?"
Both events will be held in the East lobby on the second floor of the H.L. Nowell Union. In addition, he will work with philosophy students at DSU during his residency.
Phillips, a noted author and philosopher, graduated from DSU with a master's degree in natural sciences, working closely with retired professor Dr. Henry Outlaw and former Provost John Thornell. He continued his graduate studies in philosophy, earning two additional degrees in philosophy and education. A current resident of Williamsburg, Virginia, Phillips is the author of several books for both children and adults that seek to create a better society by asking important questions about life.
Phillips travels extensively around the U.S setting up and facilitating his innovative "Socrates Café" experiences in communities and on college campuses. In his "Café" experience, he asks provocative questions, leading participants to share their opinions and beliefs about a specific topic. Phillips operates in the style of Socrates, the famous philosopher and teacher in ancient Greece, who challenged the youth of Athens to engage in philosophical debate in symposia (literally translated as "drinking parties"). Like Socrates, philosophy is not a dry, intellectual exercise for Phillips, but a communal activity in which participants help each other to seek out unfamiliar paths and grow toward greater love and understanding.
USA Today
has commented that Phillips is "…the Johnny Appleseed of philosophy. … More than 300 active Socrates Cafés now operate around the world, twice as many as before the 9/11 terrorist attacks. Phillips isn't surprised: He says people are looking for answers in an increasingly complex world."
In the book "Socrates in Love" Phillips recounts actual discussions from "Cafés" held in such places as Las Vegas; Havana, Cuba; a maximum-security prison; and Billy Graham's last evangelical revival, where he unexpectedly found some of the most inquiring philosophers.
According to Phillips, the book acts as "a springboard fora global quest" to explore five types of love pondered by Socrates: romantic/sensual, familial, societal, friendship, and sacrificial (
eros
, storge, xenia, philia, and agape).
"Socrates in Love" is published by W. W. Norton and will be available for purchase in soft cover for $14.95 at the Williams Bookstore on the campus.
There is no cost for admission and the public is invited to attend and interact with Phillips at both events. For more information, contact Dr. Mark Butler (662) 846-4619 or mbutler@deltastate.edu.