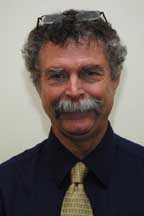 Dr. Luther Brown
Dr. Luther Brown, Director of the Delta Center for Culture and Learning at Delta State was elected to the Board of The Mississippi Humanities Council at their annual meeting held in Jackson on Friday, February 22.
During that same meeting, the Council honored the Delta Center with their Public Humanities Achievement Award. This award recognized the Center's work promoting understanding of the Emmett Till murder and the music and musicians of Mississippi, among other things.
Brown succeeds Dr. John Thornell and Mimi Dossett, both recent board members.
In 2003, he was named the Humanities Educator of the Year by the Council.
The Mississippi Humanities Council is a private nonprofit corporation funded by Congress through the National Endowment for the Humanities, with additional support from private donors.
The Council sponsors and supports a wide range of programs designed to promote understanding of Mississippi's cultural heritage, foster critical thinking, encourage reasonable public discourse, strengthen our sense of community, and empower Mississippi's people with a vision for the future.
Its popular programs include support for oral histories, a speaker's bureau and Chautauqua programs, a family literacy project, and the Smithsonian Museum on Main Street program.
Last year, the Council sponsored a workshop for teachers titled "From the Birthplace of America's Music: the Music and Musicians of Mississippi," produced by the DSU Delta Center for Culture and Learning.