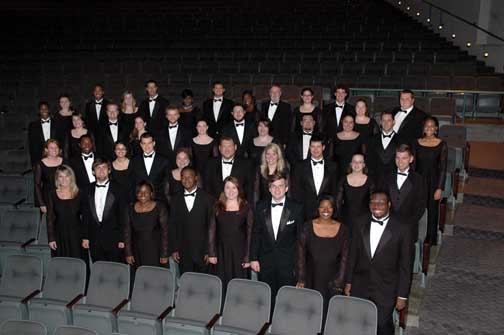 In the pre-dawn hours of Saturday, March 8, thirty-eight sleepy-eyed college singers will load a bus and travel to Memphis International Airport. Their final destination – Washington, D.C.
The Delta State University Chorale will sing at Washington National Cathedral on Sunday, March 9 at 3:30 p.m. The choir will present a 25-minute prelude prior to the 4 p.m. Evensong service.
The choir had to submit a recent recording in order to be considered to sing at the Cathedral. The Cathedral music staff reviewed the recording, and in April 2007 the Chorale received an invitation to come to Washington.
Choir CD sales and concert donations have helped defray the cost of the trip. The choir is very grateful to the University, audience members, and individual members of the community who have supported their cause.
Recent choir tours have taken students from the DSU choral program to New York's Carnegie Hall in 2005 and a ten-day tour of England in 2006. "This trip will be a special experience that our students will treasure for the rest of their lives," said Dr. Richard Waters, Director of Choral Activities at Delta State. "We recognize and embrace our role as representatives and ambassadors for the University, the city of Cleveland, and the state of Mississippi whenever we go on tour."
In addition to their performance at the Cathedral, the students will have the opportunity to visit many other famous sites in Washington, including the U.S. Capitol, Smithsonian, the Washington Monument, Lincoln Memorial, World War II and Vietnam Memorials, Arlington National Cemetery, and a performance by the National Symphony Orchestra at The Kennedy Center for the Performing Arts.
The Chorale has had March 9 circled on their calendar all year long. They learned a portion of their Cathedral repertoire during the fall semester, and began focusing on the remaining music after the winter holidays. "We still have a few final details to clean up, but we will certainly be ready," said Waters. "As I've told our singers, whoever said, 'don't sweat the small stuff' was not a musician. You can accomplish great things through hard work and dedication to your craft."