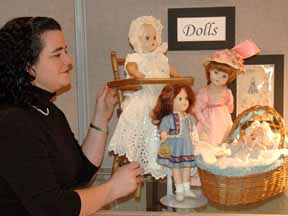 University Archivist Emily Weaver adjusts a collection of antique dolls that will be included in the upcoming exhibit.
The Charles W. Capps, Jr. Archives and Museum at Delta State University is once again celebrating Delta collectors and their collections with an exhibit entitled "Collectors' Collections on Display."
Do you have a personal collection of pottery, dolls, train memorabilia, duck calls, etcetera? Do you pick up a special trinket when you travel? If so, the Archives staff would like to invite Delta collectors to share their personal collections in this new exhibit.
Each collection will be issued a climate controlled case for display, with full safety guaranteed. Collectors are asked to submit a description of their collection and a short paragraph on why they collect that item.
The exhibit is scheduled to open on Tuesday, March 18 and will be available for viewing through Friday, May 30 in the museum.
All collections will be returned in full at the close of the exhibit.
Please contact the Archives at (662) 846-4780 to reserve your space in the exhibit by Friday, March 14.