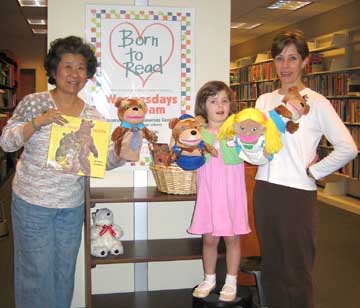 Frieda Quon, Instructional Resources Center Librarian at Delta State, shares puppets and a book with Molly Margaret Mellen and her mother. Three-year-old Molly is the daughter of Laurence and Clover Mellen of Cleveland.
Born to Read, an early literacy story time for babies and toddlers up to age four, will make its return to the Delta State University campus next week.
The program, now in its fourth year, is scheduled for every Wednesday at 10 a.m. beginning March 19 through April 30, in the Instructional Resources Center (IRC), located on the first floor of the Roberts-LaForge Library on the campus.
Born to Read is designed to promote literacy, the love of language and to spotlight for parents and caregivers the value and necessity of singing, speaking and reading to babies. Students from the Delta State College of Education will provide the programs each week.
Emergent or early literacy is what children know about reading and writing before they actually read or write. Listening to language lays the ground work for reading. During the enjoyable experience of listening, the child is immersed in language, which is how babies learn to understand words and then to speak them. Sharing books with young children starts them on the path to language, reading, and writing well before they can understand the printed word.
Additionally, a child's brain develops at an incredible rate during the first three years of life. A child's early experiences with language contribute to healthy brain development and lay the foundation for learning to read. Researchers agree that children are more likely to become good readers if they start school with these accomplishments: comprehend and express themselves with a wide range of words; name the letters of the alphabet; and exposure to a wide variety of literary experiences and appreciate books and stories.
Parents and caregivers are invited to bring their child to participate in the Born to Read program. Space is limited, so please call the Delta State Library/IRC at (662) 846-4347 or 846-4345 to reserve your place in the program. Parking is available in the back of the library or in the new parking lot located on the south side of the Aquatic Center swimming pool. Participants will be issued parking passes. Each child must be accompanied by a parent or an adult.