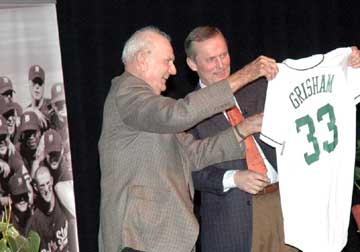 Coach Dave "Boo" Ferriss presents John Grisham with a baseball jersey
It was an event 34 years in the making and what an event it turned out to be! Over 600 attended "John Grisham on American Treasures: Books, Baseball, and 'Boo'" on Monday night at the Bologna Performing Arts Center on the campus of Delta State University. The event brought together the best of the literary world, John Grisham, with one of baseball's greatest ambassadors, Dave "Boo" Ferriss.
The duo covered Grisham's time at Delta State pursuing his dream of playing collegiate baseball for the Statesmen and how coach Ferriss' decision affected his career. John Grisham has joked many times before, "Any literary success I have had is because of 'Boo.'"
"Tonight's event was more than we could have ever asked for," said Jeremy McClain, Director of Athletics. "John (Grisham) has made an indelible mark on our program with his willingness to take part in this event."
After watching Grisham during fall tryouts in 1974, Delta State University's legendary baseball coach, Dave "Boo" Ferriss advised Grisham "to stick to the books."
He did, and 21 successful novels later, Grisham is one of the best-selling authors in American history. Grisham and "Boo" have remained close through the years, exchanging many letters and phone calls. Upon the release of every new book, Grisham never fails to send "Boo" a personalized copy with the inscription, "Thanks for putting me on the right career path, Coach."
"John has continued to support our program throughout the years and when he brought up the opportunity to come to DSU for this event, I was floored," said Ferriss. "We have a special connection with him like no other, and that is worth showcasing."
The event closed with an auction featuring items from Grisham and baseball memorabilia from the professional and collegiate ranks. The entire event raised in excess of $100,000 for Delta State's Green and White Fund.