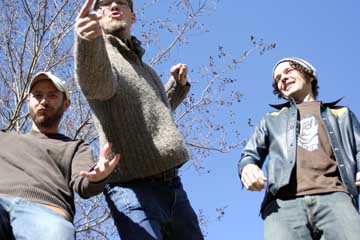 Jason Baldwin, Herb Rieth and Jayson Triplett
Delta State University's Art Department will present an exhibit entitled "It Came from Left Field: Pop, Punk, Street & Skate" opening with a reception on Saturday, March 1 from 6-8 p.m. in the Wright Art Center Gallery on the campus.
The exhibit will feature the works of Jason Baldwin, Herb Rieth, and Jayson Triplett who are Starkville artists and art faculty members at Mississippi State University.
Collectively using painting, collected materials from childhood, cloth, photographs, printing, and sculpture, they make commentaries about contemporary consumer society, cartoon imagery as social comment, the personal past and present, the mundane and the iconic.
About consumer society, Jason Baldwin states " (my imagery) symbolizes contemporary consumer society and the Huxleyan 'soma' many of us fall prey to on our quest for our next distraction…..many of us find ourselves gathering daily at various check-out lanes sheep-like, in an effort to fill an ever growing void brought on by disconnection and anomie."
The community is invited to attend both the opening reception and to view the art free of charge. The exhibit will be available for viewing through April 1.
Gallery hours are Monday through Thursday from 8 a.m.-8:30 p.m. and Friday from 8 a.m.- 3:30 p.m. The gallery will be closed for spring break on March 10-14.
For more information, please contact the DSU art department at (662) 846-4720.