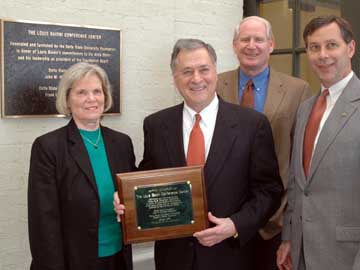 Sylvia Baioni; Louis Baioni; President of Delta State University Foundations, Inc. Frank L. Sibley; and Executive Director Delta State Alumni –Foundation Keith Fulcher
The College of Business at Delta State University held a dedication ceremony for The Louis Baioni Conference Center on Thursday, Feb. 28. The center was established by the Delta State University Alumni Foundation in honor of Mr. Louis Baioni for his service to the Delta State.
Baioni, originally from Shaw, is a 1956 graduate of Delta State. He was named DSU Outstanding Alumnus of the Year in 1996. He is a devoted member of the Delta State University Foundation, having served as a board member in various leadership capacities, including his current role as Chair of the Finance Committee, since 1994. Under his leadership, the DSU Foundation launched the first University Capital Campaign in the fall of 1994 with an original goal of $5,000,000 by the year 2000. The campaign was a success and closed with a total in gifts and pledge commitments of $10,700,000. Baioni and his wife, Sylvia, reside in Memphis.
The state-of-the-arts facility features theatre seating and high tech multi-media projection equipment to enhance professional presentations and seminars, while retaining the historical aspects of the former Broom Hall Auditorium, which dates back to 1929.