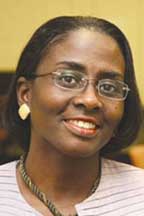 Dr. Glenell Lee-Pruitt
The African American faculty, staff and students at Delta State University will serve as hosts to the 3rd Annual Black History Commemoration program entitled "40 Years Later… Still Dreaming the Dream? Wake Up and Live It!" on Monday, Feb. 25 at 7 p.m. in the Jacob Conference Center of Ewing Hall on the campus.
The keynote speaker will be Dr. Glenell Lee-Pruitt, Dean of University College and a tenured Assistant Professor in the Department of Social Work at Mississippi Valley State University. Dr. Pruitt also serves as pastoral minister of the Solomon Chapel A.M.E. Church in Cleveland, where she became the first female pastor in the church's long history when she was assigned by Bishop C. G. Henning in December 2005. She is a member of the National Council of Negro Women, Incorporated and Chi Mu Omega Chapter of Alpha Kappa Alpha Sorority, Incorporated.
The program will feature participants in the 1968 Sit-In at Delta State University.
The program is free and open to the public. For more information, contact
Barbara McKnight at (662) 846-4697 or Clara Johnson at (662) 846-4234.