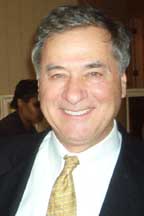 Louis Baioni
The College of Business at Delta State University will hold a dedication ceremony for The Louis Baioni Conference Center on Thursday, Feb. 28 at 2 p.m. in Room 132 of Broom-Kenner Hall on the campus.
The center was established by the Delta State University Alumni Foundation in honor of Mr. Louis Baioni for his service to the university.
The Baioni Conference Center offers comfortable raised theatre seating for groups of 100 or less, making it suitable for all types of business and seminar meetings. The 2,700 square foot center holds rich historical significance and provides a welcoming environment for business men and women, alumni, students, and faculty.
The entrance to the facility features the original brick façade of Broom Auditorium, prior to the renovation of the building in 1996. The 28 foot metaphorical ceilings feature a unique architectural design, and wall to wall windows flank the north and south entrances, providing natural light and an open and spacious atmosphere. The room is equipped with state-of-the-art high tech multi-media projection equipment to enhance professional presentations and seminars.
The dedication ceremony and reception is free and open to the public. For more information, call (662) 846-4200.