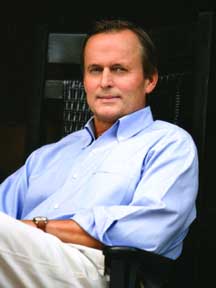 Delta State University baseball is synonymous with success. Since its inception, Statesmen baseball has become one of the most storied programs in NCAA Division II history.
On Monday, Feb. 11 John Grisham, a name synonymous with literary success, will join forces with Delta State baseball for an evening of entertainment and reminiscing at the Bologna Performing Arts Center. The event, entitled "John Grisham on American Treasures: Books, Baseball and Boo," will begin at 6 p.m. with a reception. The program will follow at 7:30 p.m.
"Many people do not realize that John (Grisham) actually attended Delta State in the mid-70's," said Mike Kinnison, DSU head baseball coach. "John tried out for the team in 1974 and came up a little short. He has often joked about Coach Ferriss' role in his literary career, and on Feb. 11 he'll be here to discuss how his career was, in fact, influenced by Coach Ferriss."
The event hopes to pair the best of the literary world with fans of baseball, not just Statesmen baseball. Proceeds from the event will benefit the Green and White Fund.
"We're tremendously excited about this once in a lifetime opportunity to put one of our nation's most beloved authors, John Grisham, on stage with one of baseball's greatest ambassadors, Coach 'Boo'Ferriss," said Jeremy McClain, Director of Athletics. "All proceeds from the event will benefit our Green and White Fund."
The Grisham-Ferriss connection is one of the most intriguing stories in Statesman baseball lore, as the once aspiring outfielder (Grisham) had his dreams of playing collegiate baseball shattered by a 93-mph fastball in fall camp. After watching Grisham during fall tryouts in 1974, Delta State's legendary coach, Dave "Boo" Ferriss advised Grisham "to stick to the books."
Grisham did just that, and 21 successful novels later, he has become one of the best-selling authors in American literary history. Grisham and "Boo" have remained close through the years, exchanging many letters and phone calls. Upon the release of every new book, Grisham never fails to send "Boo" a personalized copy with the inscription, "Thanks for putting me on the right career path, Coach."
"John never told me he planned on being famous," Ferriss said. "Had I known he planned on being one of the greatest writers of our time, I think I would have pondered that decision a little longer."
The event will feature Grisham speaking on his love of baseball, his time at Delta State and how his career came about. Coach Ferriss will join Grisham on stage to discuss his time at DSU and his flourishing career as one of our nation's top literary minds.

After the event, a live auction will be held. Various items will be available including a baseball signed by Ferriss and John Grisham, a Ted Williams and Bobby Doerr autographed baseball, and much more.
Tickets are $100 to the event and are available at the Delta State Department of Athletics or online at
www.GoStatesmen.com
. For more information, please contact DSU Athletics at (662) 846-4289 or email us at
athletics@deltastate.edu
.