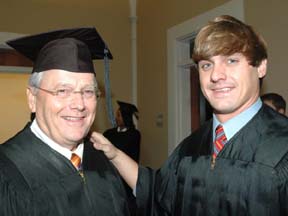 Dr. Edward K. Gore (at left) and his son Rhett, both of Tupelo, received their diplomas from Delta State University during the 81st Fall Commencement ceremony held Saturday, Dec. 8, inside Walter Sillers Coliseum on the Delta State campus.
Edward Gore completed a degree in biology started in 1958 at Delta State College. He had originally finished three years at Delta State, but left to work on and complete his medical degree. He finished the classes necessary to complete his Bachelor of Science degree in biology in time to graduate with his son, Rhett. Dr. Gore has been practicing medicine for 44 years.
Rhett Gore received his Bachelor of Arts degree in psychology.