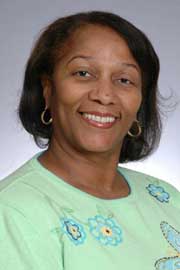 Georgene Clark
"I have always believed hard work delivers rewards," Georgene Clark explained from behind her desk, and the veteran assistant professor of English at Delta State University is eager to apply that philosophy to her newest appointment on campus as Coordinator of Diversity Activities.
"The task ahead is challenging, I recognize that; but I am excited by the wonderful opportunity President (John) Hilpert has given me," Clark offered of her selection. "As Coordinator of Diversity Activities, I see it as my charge to work with the entire campus community to enhance diversity planning and programming here at Delta State. My hope is for DSU to become a center of excellence for diversity, and that other institutions will look to us for guidance."
Joining Clark in her work will be:
David Dallas, Executive Director, Bologna Performing Arts Center
Nethel Hector, Delta State student
Dr. Greg Hudson, Dean of Student Affairs, Coahoma Community College
Carla Johnson, Coordinator, College of Business Graduate Programs
Marcus Lewis, Delta State student
Dr. Paulette Meikle-Yaw, Assistant Professor of Community Development and Sociology
Davlon Miller, Delta State student
Deborah Moore, Director, Center for Community and Economic Development
Cetin Oguz, Assistant Professor of Art
Frieda Quon, IRC Librarian
Arlene Sanders, Instructor in Political Science
Dr. Myrtis Tabb, Assistant Vice President for Partnerships and Special Projects
Margaret Tullos, Professor of Social Work
"The formation of this committee speaks loudly to the commitment Delta State University has to diversity initiatives," Clark continued. "It is vital to the well-being of our institution that we embrace our differences and the unique contributions brought about because of those differences."
Under Clark's leadership, the Diversity Activities Committee is charged with creating a long-term plan for diversity enhancement at Delta State and to begin its implementation. Included in that work will be establishing a mission statement, assessing the campus climate regarding diversity and other related issues and from those results, establishing a baseline; arranging opportunities for development across the campus and assisting with strategies that broaden personnel searches.
One of the first activities the committee will engage in is diversity training for the President's Cabinet and Academic Council.
The committee is set to hold its first meeting at the start of the spring semester.