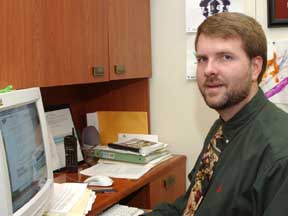 Dr. Scott Hutchens
Delta State University is set to hold its 2007 Fall Commencement, Saturday, Dec. 8, at 10 a.m. inside Walter Sillers Coliseum on the Cleveland campus, with Dr. Scott Hutchens, associate professor of psychology, to deliver the keynote address.
As has been the practice, the winner of the S.E. Kossman Outstanding Faculty Award delivers the fall commencement keynote address. The 25th overall recipient of the honor this past May, Hutchens is set to offer wisdom and advice to the graduating class this Saturday in his address, "Off the Wall Comments."
The keynote will analyze the 1979 rock classic, "Another Brick in the Wall," by Pink Floyd. The famed lyrics denounce the value of education, suggesting education creates blind conformity to society. The chorus of the song repeats, "We don't need no education. We don't need no thought control. Teachers leave them kids alone. All in all, you're just another brick in the wall."
Hutchens will address the irony of the song's meaning, instead highlighting the importance of earning a higher education and controlling one's thoughts. "Saturday's graduate will possess the most complex structure in the known universe – their brains," he hinted of his address. "The human brain with over 100 billion neurons firing in harmony is the most complex structure in the known universe. The brain makes us everything we are and allows us to be conscious, to have a unique personality, to think, to make decisions, to remember, to perceive, and to do everything we can do."
Since arriving at Delta State in 1998, Hutchens has published numerous research papers and has presented over 50 professional research presentations in the areas of eyewitness identification, text comprehension, instructional technology, distinctive (bizarre) memories, models of memory and social cognition. His work has been published in The Journal of General Psychology, The American Journal of Psychology, Psychonomic Society, T.H.E. (Teaching in Higher Education) Journal, Delta Education Journal, Academic Exchange Quarterly, Behavior Analyst Today and The International Journal of Instructional Media.
In 2005, Hutchens was awarded Delta State's College of Education Research Excellence Award and has had three papers nominated for Outstanding Research Paper at the Southeastern Psychological Association (2005 & 2006) Conferences. He was recognized as the 2006 recipient of the Delta State University Foundation Prizes for Excellence in Research.
A strong proponent of the value of undergraduate research experience, he has dedicated countless hours outside of the classroom to mentoring psychology undergraduates in experimental research.
Delta State is expected to graduate approximately 400 graduates during its fall commencement exercise. Graduation is free; however a ticket is required for entrance.
For more information on Delta State's upcoming fall graduation, please contact University Relations at (662) 846-4675.