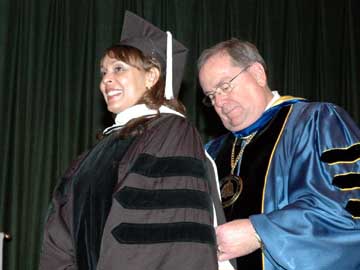 The newly conferred Dr. Natasha Trethewey is hooded by Delta State University President John Hilpert. As part of the University 81st Fall Commencement Saturday, Trethewey received the first honorary degree of her career. In 2007, she became the first Mississippian to win the Pulitzer Prize for Poetry for her work, "Native Guard."
In a ceremony that she said made her "heart flutter" green for Delta State University, Pulitzer Prize-winning poet Natasha Trethewey was awarded the first honorary degree of her career as part of Delta State's 81st Fall Commencement Service this morning inside Walter Sillers Coliseum on campus.
Delta State University confers the honorary degree to individuals who have made significant and meritorious contributions to the university, higher education generally or other areas of society. Expected areas of achievement included, but are not limited to, outstanding creative and scholarly work, distinguished leadership or service, significant accomplishments or exceptional philanthropic support. Trethewey was conferred the degree, Doctor of Arts and Letters, honoris causa, with all traditional rights, privileges, and responsibilities.

"Ms. Trethewey is an accomplished poet who has achieved international recognition. Her Mississippi heritage makes all of us proud. We're pleased to present her an honorary doctoral degree from Delta State," Dr. John M. Hilpert, Delta State President, said. "Her success is a wonderful story for our students and graduates to hear."

A Gulfport native, Trethewey published her first collection, "Domestic Work" (Graywolf) in 2000. Her
follow-up effort, "Bellocq's Ophelia" (Graywolf) debuted two years later in 2002; and her most recent anthology, "Native Guard" (Houghton Mifflin) was introduced in 2006.

In just those six short years, she established herself as one of the best and brightest, young poets on the literary circuit. The ultimate stamp of approval came in 2007, as Trethewey's "Native Guard" won the Pulitzer Prize in Poetry. She became the first Mississippian to the win the Pulitzer Prize for Poetry.

Yet, the Pulitzer Prize is one of many honorary distinctions on her lengthy resume. Her first collection was the winner of the inaugural Cave Canem Poetry Prize for the best first book by an African American poet. In addition, she won the Mississippi Institute of Arts and Letters Poetry Prize for all three book publications, the 2001 Lillian Smith Book Award in 2001 for "Domestic Work" and again in 2007 for "Native Guard" and the American Library Association (ALA) notable Book Award for "Bellocq's Ophelia."

Of her newly conferred degree, Trethewey offered, "My sincere thanks to Dr. John Hilpert, Professor D. Allan Mitchell and Delta State University. I can think of no greater homecoming than one that allows for fellowship with good people and good letters."

She has taught at Auburn University, the University of North Carolina-Chapel Hill and Duke University where she was the 2005-2006 Lehman Brady Joint Chair Professor of Documentary and American Studies. Trethewey is currently the Phillis Wheatley Distinguished Chair of Poetry at Emory University in Atlanta.

Trethewey joins Elbert R. Hilliard, Charles W. (Charlie) Capps, Morgan Freeman, Dr. James (Jim) T. Rogers and Dr. Patricia (Patsy) A. Thrash to become the sixth recipient in Delta State history to receive an honorary degree.