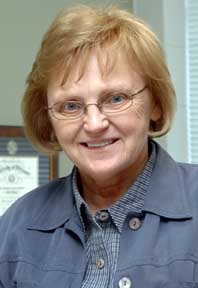 Dr. Marilyn Schultz, assistant professor of Languages and Literature and coordinator of English education, will be awarded The Mississippi Humanities Council's 2007 Teacher Award for Delta State University 7:00 p.m., Tues., Nov. 13 in the Lucy Howorth Seminar Room of the Capps Archives.
Schultz will present a lecture entitled, "From Bare Feet to the Space Age: The Evolution of Literacy." The lecture focuses on how at one time reading and writing proficiency were adequate for defining literacy competency. These reading and writing capabilities still form the bedrock for the emerging technological literacy expected in the 21st Century. In fact, many language theorists believe that reading and writing skills are essential to acquiring more than superficial knowledge. In addition, others believe that integrating these multimodal forms (music, videos, photos, and sound) into school and business communications acknowledges that language is only partial, so we need to become literate in framing and designing multiple arts into presentations.
For those who have been in education for decades, the new technology sometimes seems intimidating. Nevertheless, technology will not disguise lack of proficiency in reading and writing, so those skills remain essential to an educated person. Technology brings the arts and traditional communications skills closer together.
The presentation is made possible through a grant from the National Endowment for the Humanities to the Mississippi Humanities Council. The award, funded by the MHC every October to commemorate Arts and Humanities Month, is presented to one educator from each institution of higher learning in the state of Mississippi. Winners of the award receive $500 and will be recognized at the MHC's annual awards dinner in February 2008.
Schultz, active in state and national associations dealing with English education, joined the Delta State University Languages and Literature faculty in 2003.
The lecture is free and open to the public. For more information, call University Relations at 846-4675.