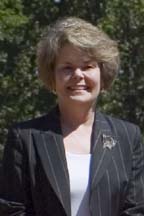 Following four days of intensive on-campus visits last week, Delta State University President Dr. John M. Hilpert announced, this morning, the hiring of Dr. Ann Candler Lotven as the University's next Provost and Vice President of Academic Affairs this morning.
Lotven has served as the Provost and Vice President for Academic Affairs at Texas A&M University – Texarkana since 2004. Previous positions include Dean of the College of Education at Oklahoma State University from 1995 to 2004,Associate Dean for Administration at Texas Tech University from 1990 to 1995 and Professor of Education at Texas Tech University from 1976 to 1995.
"We are fortunate to have Dr. Lotven as our new Provost," Hilpert said of Delta State's hire. "She brings breadth and depth of experience to the position. She has been outstanding wherever she has served, and we expect her to be a strong leader in our campus community."
During her academic tenure, Lotven has also served as Executive Director of the South Plains Teacher Education Center, an organization that built university-school-community partnerships, as well as President of the Oklahoma Association of Colleges for Teacher Education from 1999 – 2000.
Her scholarly record lists over 50 publications and more than 70 conference presentations to her credit. Lotven received her doctoral and master's degrees from the University of Houston and bachelor's degree from Lamar University (Texas).
Lotven's peers and other professional colleagues lauded her work and record, offering," She is perhaps the most respected provost in the (Texas A&M) System."
Another testament added, "People like and respect Dr. Lovten so much, they want to work with her."
Other comments included, "She will be a first rate leader at whatever she does," as well as "Dr. Lotven is dedicated and committed to higher education."
During the on-campus interview sessions last week the remaining four candidates had two open meetings with faculty, staff, students and community. Following those two sessions, evaluation forms were available to all. At week's end, Lotven scored the highest overall average rating.
She and husband, Dr. Bryan Lotven, a consultant on education leadership, are expected to return to the Delta State campus prior to the Christmas holidays for a visit. She will then take office after the beginning of the second semester.
Hilpert added, "I can't say enough good things about our search committee. They brought wonderful candidates to the campus. Any of the four finalists could have filled the position of provost with distinction."
The search, which first initiated in August, began with 35 applicants. From its initial 35, the committee reduced the list to 12, with 11 participating in off-campus interviews with the committee. The twelfth withdrew before the interviews.
After reference checks were made on seven of the remaining 11, four candidates – Lotven, Dr. Anthony Koyzis, Dean of the School of Education, Wayne State College, Wayne, Nebraska; Dr. Vagn Hansen, Dean, College of Arts & Sciences, University of North Alabama, Florence, Ala.; and Dr. Debbie Norris, Vice President for Planning & Assessment, Mississippi College, Clinton – were invited to participate in on-campus interviews.
Dr. Phyllis Bunn, President of the Faculty Senate for the 2007-08 academic term and long-time College of Business professor, chaired the Search Committee. She was joined in her work by:
Bill Hays – College of Arts & Sciences
Garry Jennings – College of Arts & Sciences
Tracy Mims – College of Arts & Sciences
Rie Somlai – College of Arts & Sciences
Darry Hardy – College of Business
Jenetta Waddell – College of Education
Scott Hutchens – College of Education
Vicki Bingham – School of Nursing
Jeff Slagell – President's Cabinet/Academic Council
Dr. Tyrone Jackson – Academic Support Staff
Deborah Brick – Student Government Association
Rori Herbison – Administrative Staff Council
Dr. Jackie Thigpen – Community
Greg Redlin – Ex-Officio (Staffing to the Committee)