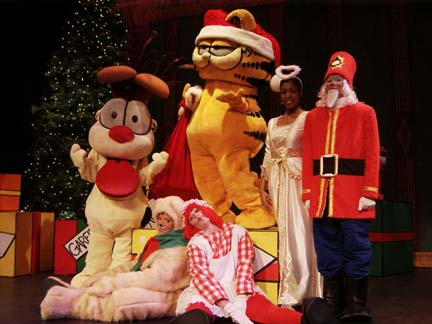 It's the most wonderful time of the year – especially if you're the world's best-loved, fat cat movie star, Garfield.
Garfield and friends promise to light up the holiday season in "A Garfield Christmas," Thursday, Dec. 6 at 7:30 p.m. inside the Delta and Pine Land Theatre of the Bologna Performing Arts Center (BPAC) on the Delta State University campus.
In this colorful and vivid production, everyone's favorite feline is a few gifts short of the true Christmas spirit. But with help from Jon, Odie, the audience and his new holiday friends, Garfield gets an "enlightening" lesson.
The holiday musical features timeless Christmas favorites such as "Jingle Bells," "We Wish You a Merry Christmas," "Deck the Halls," plus four original songs.
Sing along as Garfield's new friends including Nutcracker, Rag Doll, Teddy Bear and even Angel from the top of the Christmas tree all work together to bring light to Garfield's Christmas.
"A Garfield Christmas" is produced by Milestone Productions with the expressed permission of PAWS, Inc, Owner/Licensor of Garfield and Friends.
For ticket information, please contact the BPAC Box Office at (662) 846-4626 or visit online at www.bolognapac.com.