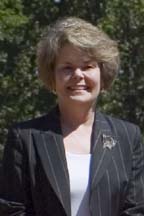 Just two days removed from the announcement of her hiring, Dr. Ann Candler Lotven, Delta State University's new Provost and Vice President of Academic Affairs, is wasting no time in returning to the Cleveland campus.
She and her husband, Dr. Brian Lotven, a consultant on education leadership, will return to the Delta next week to begin the initial stages of their January move. The Lotvens will be in Cleveland Tuesday, Nov. 27 – Thursday, Nov. 29.
On Wednesday, Nov. 28, Delta State will host a welcome reception for its newest hire and her family inside the Kent Wyatt Hall atrium from 3:30 p.m. – 5 p.m. The event is open to the public.
Delta State faculty, staff, students and the community are encouraged to come by and greet the Lotvens.
During their visit, the Lotvens will also take an extended tour of the community and campus, meet with faculty, staff and students; as well as attend the Bologna Performing Arts Center's Tuesday evening performance, "A Viennese Christmas" at 7:30 p.m.
Lotven was announced as Delta State's next Provost and Vice President for Academic Affairs early Monday, following a four-month search that included over 30 candidates.
She comes to DSU from Texas A&M University – Texarkana, where she has served as the Provost and Vice President for Academic Affairs since 2004. Previous positions include Dean of the College of Education at Oklahoma State University from 1995 to 2004,Associate Dean for Administration at Texas Tech University from 1990 to 1995 and Professor of Education at Texas Tech University from 1976 to 1995.
"We are fortunate to have Dr. Lotven as our new Provost," Delta State President, Dr. John Hilpert said earlier in the week. "She brings breadth and depth of experience to the position. She has been outstanding wherever she has served, and we expect her to be a strong leader in our campus community."
Lotven is expected to take the position after the start of spring semester.
For more information on the welcome reception, please call the Office of University Relations at (662) 846-4675.