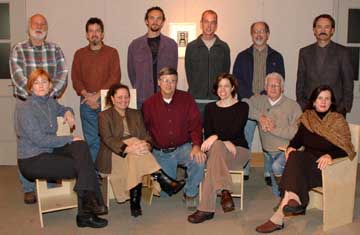 Pictured are: Delta State Art Department faculty (front row, from left) Mollie Rushing, Catherine Koehler, Ron Koehler, Robyn Moore, Bill Lester, Pat Brown, (standing, from left) Duncan Baird, Kim Rushing, Cetin Oguz, Ky Johnston, Joe Abide, and Collier Parker. Not pictured: Allison Melton.

The D

elta

State University

art faculty will present work produced during the past year in the annual Faculty Art Exhibition to be held in the Wright Art Center Gallery on campus.Opening with a public reception Sunday, Nov

.

4, from 4-6 p.m., the show will remain in the gallery through

Friday,

Dec

.

7.
Duncan Baird
's sculptural work is derived from playing with simple forms in different materials from his interest in Native-American artifacts of the Mississippian Period. Also working in sculpture, Ron Koehler has produced a series of work in wood titled "Balanced Diet", teetering trompe l'oeil sculptures dealing with surface texture and coloration of food.

Collier Parker painted local landscapes focusing almost exclusively on capturing the elusive color of an ancient crepe myrtle tree in full bloom in morning and afternoon light.He also presents a full-figure portrait and a sketch from memory of the Tuscan countryside.

Pat Brown has experimented with singular and clusters of made, found and collected objects entitled "50 Somethings: Autobiography" which will be displayed next to tiny wetplate collodion photographs, a 19th century process, of those same objects.
Ky Johnston's functional ceramic pieces are created with attention to form and surface alterations and this year, plans to include cyanotypes in his part of the exhibit.

Catherine Koehler's mixed media pieces are based on the seven sacraments of Catholicism and incorporate her love of materials and collected objects which convey symbolism.

Painting faculty member Cetin Oguz's works disclose biomorphic and figurative qualities within them and speak to cultural and religious discourse with history, beliefs and perceptions intertwined.

Robyn Moore will be exhibiting color pinhole photographs and photopolymer etchings—Moore's work asks questions about consciousness, extinction, survival, the body, and memory.
Joe Abide continues to explore small wood and acrylic pieces that pick away at the repetition, ritual, and habit that are woven into everyone's lives; he comments that he is interested in the visual deconstruction of objects to reveal threads that run through all of our visual experiences in life.
Bill Lester has a body of oil paintings of Dockery and surrounds, bronze sculpture, hand-colored block prints and also his handmade turkey trumpets and duck calls.
R. Kim Rushing combines new technology in conjunction with an antique printing process, enlarging negatives with a computer to make handcrafted platinum/palladium photographic prints.
Allison Melton states that graphic design is rooted in the art of poster-making and in keeping with that tradition, will be showing a self-promotional series of posters that reference a vintage/art nouveau style.
Mollie Rushing, in looking through her journals from several years back, found she had drawn many quilt block designs and so with her love of color, texture and order, creating quilts was the outcome of that self-reflection.
The public is cordially invited to the opening reception and to view the artists' work throughout the exhibition period. Gallery hours are 8 a.m. – 8:30 p.m., Monday through Thursday and 8 a.m. – 3:30 p.m. on Friday, closed on weekends and holidays.For more information, please call the art department at (662) 846-4720.