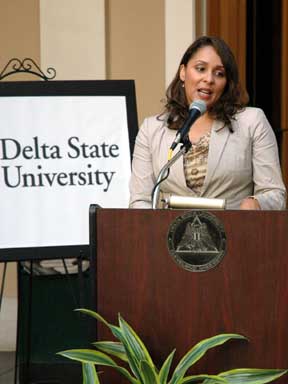 Pulitzer Prize Winner, Natasha Trethewey visited Delta State University's campus Wednesday. She will receive an honorary degree from the institution later this December.
Delta State University welcomed Natasha Trethewey, the 2007 Pulitzer Prize Winner for Poetry, to it campus today, while also announcing its intent to honor the Mississippi native with an honorary degree at the University's winter commencement ceremony, Saturday, Dec. 8.
"Ms. Trethewey is an accomplished poet who has achieved international recognition. Her Mississippi heritage makes all of us proud. We're pleased that she will accept an honorary doctoral degree from Delta State at our December commencement," Delta State President, Dr. John M. Hilpert offered in a press conference held earlier this morning on campus. "Her success is a wonderful story for our students and graduates to hear."
While on the Cleveland campus, Trethewey presented a reading from her collection of works. She also while met with faculty, staff and students and signed copies of her books. The visit marked her first appearance on an institution of higher learning's campus in her native state since winning the Pulitzer Prize.
Her most recent collection of poems, "Native Guard," (Houghton Mifflin 2006) earned her the prestigious Pulitzer, as well as the 2007 Mississippi Institute of Arts and Letters Book Prize.
"Today has been a wonderful day – to be welcomed back as a native daughter, it is a dream come true," Trethewey explained.
Of the honorary degree she will receive in December from Delta State, she added, "It is an absolute honor, and I am so happy it is Delta State University that is doing this. I am very appreciative and look forward to returning to campus later this semester."
This will be the first honorary degree of her career.

Trethewey has a bachelor's in English from the University of Georgia, a master's in English and Creative Writing from Hollins University and a master's degree in poetry from the University of Massachusetts. She is the recipient of fellowships from the Guggenheim Foundation, the Rockefeller Foundation, the Bunting Fellowship Program of the Radcliffe Institute for Advanced Study at Harvard University, and the National Endowment for the Arts.
She has taught at Auburn University, the University of North Carolina-Chapel Hill and Duke University where she was the 2005-2006 Lehman Brady Joint Chair Professor of Documentary and American Studies. Trethewey is currently the Phillis Wheatley Distinguished Chair of Poetry at Emory University in Atlanta.
Her first poetry collection, "Domestic Work" (Graywolf Press, 2000), won the inaugural 1999 Cave Canem poetry prize (selected by Rita Dove), a 2001 Mississippi Institute of Arts and Letters Book Prize and the 2001 Lillian Smith Award for Poetry.
Her follow-up collection, "Bellocq's Ophelia" (Graywolf, 2002) received the 2003 Mississippi Institute of Arts and Letters Book Prize, was a finalist for both the Academy of American Poets' James Laughlin and Lenore Marshall prizes and was named a 2003 Notable Book by the American Library Association.