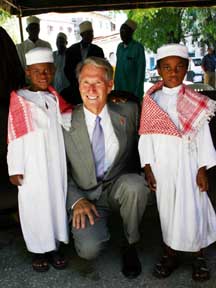 Ambassador Michael L. Retzer is shown with two children of Zanzibar.

Z

anzibar is an archipelago of islands located in the Indian Ocean, about 25 miles from the Tanzanian coast. The islands are a part of Tanzania.
Delta State University's College of Business will present its annual lecture series –"Celebrating Academic Excellence" – on Thursday, Oct. 11 from 10:30-noon inside Jobe Hall Auditorium on campus.
The Honorable Michael L. Retzer, United States Ambassador to Tanzania, will be the keynote speaker for the event.
Ambassador Retzer was sworn in by Secretary of State Condoleezza Rice as United States Ambassador to the United Republic of Tanzania
in
2005, and presented his credentials to President Benjamin Mkapa in Dar Es Salaam on Sept
.
1, 2005.

Ambassador Retzer's career reflects considerable experience in several fields.
He has served as a Captain in the U.S. Air Force.
He developed a thriving restaurant chain in 20 locations in Mississippi and Arkansas, which employs over 1,100 people, and he has also served on the Board of Directors and the Executive Committee of the Planters Bank of Mississippi.

Ambassador Retzer has enjoyed an active political career.
Since 1978, he has been elected multiple times as Chairman of the Mississippi Republican Party.
In 2004, he was elected Treasurer of the Republican National Convention in New York City.
He was elected Republican National Committeeman for Mississippi in 2001 and Treasurer of the National Republican Party in 2002.

In his hometown of Greenville, Miss., Ambassador Retzer has contributed to community growth by serving in several civic organizations, such as the Chamber of Commerce, the Industrial Foundation, and the South Delta Planning Council.
He was a founding member of Delta Wildlife Foundation and the Mississippi Wildlife Foundation.
He has also served as a trustee of the National Symphony Orchestra in Washington, D.C.

Ambassador Retzer received his
bachelor's
degree from the Honors College at the University of Oregon with a major in Finance and Marketing.
The event is free and open to the public.
For more information, please call the College of Business at (662) 846-4200.